Dear Advisor:
Have you ever spent time in a small, privately owned wine shop and eavesdropped on some of the
conversations between the staff and patrons? I have and here's something I've wondered:
How does the staff answer customer questions with so much ease and authority?
Where do wine shop owners turn for the amazing bits of information they can share about ANY bottle of wine?
What's the secret to their vast knowledge of every varietal, every growing region, every nuance of every bottle of wine?
I've always been slightly puzzled by this. But now I know the answer and it's good news for any financial advisor who has struggled with the challenge of finding an affordable client gift that's just the right thing for a client who enjoys wine…
The answer is this amazingly slim little volume of wine insight and wisdom called the Professional Wine Reference…
This isn't something you ever see for sale at your local wine store. But it's there of course, secreted away under the front counter for private consultation when no one is looking.
The Professional Wine Reference, now in its fifth edition after more than 30 years as the insider's source, is a handy, pocket-sized volume designed for wine enthusiasts and professionals alike… .
Here's what the editors of the Professional Wine Reference say about their little guide:
"Professional Wine Reference may best be thought of as an encyclopedic dictionary in which subjects are explored according to their importance and their complexity. Each term includes a pronunciation guide, which can be highly useful for the wine novice as well as the wine expert…"
And this amazing volume has an excellent cross-referencing system that takes the user on a virtual wine tour of the world. (I'll demonstrate this down below.)
Having Trouble Picking an Affordable and Distinctive
Gift for Your Top Clients?
My name is Sean Bailey and I'm the editor in chief of Horsesmouth. We developed a Client Events improvement program for advisors called "Secrets of Successful Client Events."
During that time, the issue of advisor gift-giving came up.
So we decided to take a deeper look at the topic and surveyed 500 advisors on what they do gift-wise for clients. Here's what we learned:
Advisors not happy with their approach
Only 22% of advisors are happy with their gift-giving program.
48% said their approach needed help or could be improved.
30% said they didn't have a specific gift-giving program.
2 key challenges
45% of advisors said finding the right type of gift was their major challenge.
40% said finding affordable gifts was their top challenge.
Who's getting the gifts?
Only 31% of advisors said they give gifts to just some of their clients.
68% of advisors said they send gifts to mostly all of their top clients and "B" and "C" clients.
How many gifts?
One in five advisors send two gifts a year.
About 62% send one gift per year.
10% don't give gifts at all.
6% give three or more gifts.
How much and when?
The median average cost of a client gift was around $50. And the holiday seasons were the most common time of the year for advisors to send gifts.
But What Do Advisors Need Most of All?
Advisors told us in their written comments that what they needed most for better client gift-giving programs were good ideas, affordable ideas, and more ways to get it done easily…
And they also told us that they enjoy giving books on special topics to clients. And they like giving wine and wine accoutrements.
So advisors say they need good, affordable and classy gifts they can share with their clients.
Well, it just so happens that the Professional Wine Reference fits that bill on all fronts.
In fact, we discovered the Professional Wine Reference while doing research for our Client Events program and the Great Client Wine Event Guide, which details, step by step, exactly how to hold a simple, small client dinner and wine tasting.
It was clear that this handsome volume—the Professional Wine Reference— is just the right thing for advisors looking to give something new and unusual to their clients…
Reasons Why the Professional Wine Reference
Makes a Great Gift
#1 Demonstrates Your Appreciation of High Quality Products. There's nothing really like the Professional Wine Reference and its unique encyclopedic-dictionary-keyword-linking format. Anyone who spends just a couple of minutes perusing the Professional Wine Reference recognizes its amazing, informative, and entertaining qualities. It's like taking a virtual wine tour.
#2 Wine Lovers Will Return to It Often and You'll Be Remembered Fondly. This pocket-sized guide fits nicely on the shelf next to the cookbooks, but easily fits in your pocket for a trip to a wine store or vineyard. Or keep it with the wine collection.
#3 Easy Storage in the Office and Easy to Carry Home. It's always good to have something special around your office that you can give a client or prospect with on the spur of the moment. Maybe you didn't know they liked wine or had traveled to Napa or Bordeaux. Whatever triggers the situation, you can reach for one of your Professional Wine References as a quick little gift. Its pocket size makes it easy for you to store at the office.
#4 Perfect to Hand out for Events. If you choose to make the Professional Wine Reference a take-home gift at your next client wine event, its easy for people to drop in their pocket or purse as they head home. Every time they pull it out for a trip to the wine store or take it on their next vacation to Napa Valley, you'll be remembered fondly.
#5 Ideal for Convenient Shipping by Mail. The Professional Wine Reference fits easily into a small envelope and can be mailed inexpensively to your clients.
# 6 Reinforces Your Position as Teacher and Expert. The Professional Wine Reference is one of those classic volumes you'll recognize even if you don't know anything about wine. You've seen similar high-quality volumes in your own field. You know it when you see it. And your clients will, too.
# 7 Shows You're Thoughtful. Those clients who enjoy wine will be naturally appreciative of a gift such as the Professional Wine Reference. A gift that is based on knowledge of one's interest always makes a strong impression. And it's easy to inscribe. (See examples below.)
Confessions of a Rising Wine Enthusiast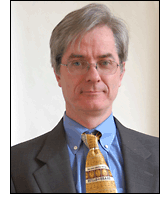 Sean M. Bailey
Allow me for a minute to put myself in your clients' shoes. I like wine. But I'm not a nut about it.
I enjoy trying all kinds of different wines and I'm always in search of a great deal. But I can't pronounce most French wines and I know practically nothing about Italian wine.
I probably fall slightly above the middle in the range from wine novice to wine super-enthusiast. I'm an enthusiast, not an expert, not a maven.
So when I got my hands on a copy of the Professional Wine Reference, I gave it the once over and immediately knew that this was the ideal gift for advisors to share with clients.
It's part encyclopedia and part wine dictionary. It's extremely well written and informative. And it's fun to use.
Its cross-indexed, sort of hyperlinked like a web page. Most entries will include a word or phrase in the description that is printed in UPPER CASE. That means you can learn more about that topic by looking for that entry elsewhere in the guide. So you can hop around from entry to entry, taking a mini-tour of the wine world.
It's a lot of fun. Here's an example.
From BARBERA to VIN DE PAYS
The other night, a friend of ours came over for dinner. She had just returned from a hiking trip in Maine. On her way back, she spent a night in Portland and ate at a new, small, family-owned Italian restaurant.
While she was waiting for a table, the owner poured her a nice red from Italy. Our friend loved it and when she returned home, ordered some from a local wine shop and brought a bottle along for our dinner. Perfect. I reached for the Professional Wine Reference to see what we could learn.
Here's how it unfolded.
The label read: Volpi Barbera d'Asti Superiore, "Vobis Tua 2005."
I know very little about Italian wine. But I knew "barbera" was the grape, so we started there. Here's the entry on page 27:
Barbera (Bar-bear-ah): Good to high quality red wine grape, widely planted in northern Italy and also in California, where some 8,500 acres are planted. Most successful in PIEDMONT, its wines are called Barbera dAsti, Barbera del Monferrato and Barbera dAlba. Accounting for over half of Piedmonts red wines, Barbera, which possesses abundant red fruit character, powerful acidity and moderate tannin, produces a broad range of styles. Previously relegated to simple, everyday wine, top-notch producers are bottling a more powerful version that may include BARRIQUE aging. Barbera has a long history in California, particularly in the CENTRAL VALLEY where its potential to produce high yields has made it a valuable component of GENERIC wines. Although a few producers have experimented with more up-market versions, it is likely to continue to lose acreage as consumers turn increasingly to VARIETAL wines from better known grape varieties.
Note the items in UPPER CASE. The first one is Piedmont. I knew that was a region in Italy (and the Carolinas), so I skipped that. The "BARRIQUE aging" mention caught my attention, though. I've boned up a little on the topic of aging wines, but I'd never heard of this. So I thumbed forward to Barrique on page 30. Here's what it said:
Barrique (Bah-reek): Oak barrel traditionally associated with Bordeaux but now commonplace in premium wine production worldwide. Technically, a barrique has a capacity of 225 liters, but the term has come to be associated with new oak casks of almost any size. Well made barriques are expensive and can add significantly to the cost of wine production, giving rise to OAK ALTERNATIVES. The rapid growth in popularity of aging wines in barriques or other small new oak vessels has caused more than a bit of controversy as the process markedly alters the aromas and flavors of the wines.
Ah, so Barrique refers to Oak barrels and Bordeaux wines. I like Bordeaux blends and their subtle use of Oak unlike the heavy, Oaked whites of California. I noted the OAK ALTERNATIVES. Hmm. Not sure what that meant. So I flipped to page 221.
Oak Alternatives: Controversial means of adding oak flavor and tannins to wine by bringing it into contact with various oak derivatives such as chips, staves, chains or extract. The process helps the winemaker create a desired flavor, aroma and texture profile at a lower cost than using new barrels. Critics claim it is merely a form of flavoring and has detrimental effects on individual wines as well as the wine market over the long term. Although common in the New World, it is rarely used on fine wines and is illegal in most European appellations, though it is now permitted in French VIN DE PAYS.
Wow. Oak chips? Who knew? So, I saw how they're allowed in VIN DE PAYS wines in France. That's a term Id seen before but I wasn't sure what it meant, exactly. So, I turned to page 335:
Vin de Pays (Van duh Payee): French for country wine, a category for wines produced either in less prestigious regions not entitled to appellation contrôllée APPELLATION CONTROLLEE (AC) status or which do not meet the more restrictive AC requirements. The regions involved are generally larger than for AC wines and several have rather poetic names, such as the Loires Vin de Pays du Jardin de la France (Country Wine of the Garden of France). The LANGUEDOC and ROUSSILLON regions produce the majority of Frances vin de pays, often referred to as VdP, which totaled some 15 million liters in 2004, 26% of the country's production.

Although the vast majority of VdP is ordinary at best, the small percentage that meets importer's requirements is often remarkably appealing and usually an exceptional value. Recently, a number of very ambitious wines have been released in this category, often with equally ambitious price tags.
So, from there we could continue our wine journey to Languedoc and Roussillon, but we'll pass on that for now. But you see how it works, right?
I have to confess that I've spent a good deal of time at home recently bouncing around the Professional Wine Reference in this way. It's a lot of fun.
And now a copy sits up on my cookbook shelf for easy access. I love it. And I'm certain your clients, prospects, and strategic allies will love it, too.
What Pros Say About the Professional Wine Reference
Recommended for Pros and Ordinary People
"… an indispensable guide that is both concise and easy to use. I recommend it highly for both professionals and people who just want to learn more about wine.
– Bernard Sun, Corporate Beverage Director, Jean-Georges Restaurants
Unique to the Planet
The only book on worldwide wine you will ever need.
– Alan N. Stillman, Chairman and Founder, The Smith and Wollensky Restaurant Group
Comprehensive and Useful
The descriptions and definitions of every major wine topic are covered with remarkable depth and detail. It is definitely a book which will be very useful for our sommeliers in all of our restaurants.
–Paul Roberts, The French Laundry
The Best Pocket Wine Book
"I discovered this little book several years ago while teaching beverage operation at a community college. Written by a professional known mostly by other professionals (he was U.S. representative of the Revue du Vin de France in Paris) it is a pocket book that is not only concise but amazingly thorough, useful for the expert who can't remember the total acreage of Romanée-Conti and the neophyte wanting to know what trockenbeerenauslese means.
– FS Brown, Northern California wine buff
9 Ways to Use the Professional Wine Reference in Your Practice
1) Send as a holiday gift. Whether it's a stand alone gift, paired with a bottle of wine, or offered as part of a gift basket, the Professional Wine Reference is a great holiday gift.
2) Send as a birthday gift. Likewise, for the client who is a wine buff, a rising wine enthusiast, or someone who is likely to enjoy wine, the Professional Wine Reference makes an ideal gift to mark a special clients birthday celebration.
3) Feature it in your next wine event.
Use it as a wine event gift. If you've ever put on an intimate wine-tasting
for your top clients and prospects, sending them home with a copy of the
Professional Wine Reference
is a great way to make the good vibes lasts. Hand it out at the door as people leave for the night and be sure to inscribe it. (See examples below.)
4) Hand it out at the end of a client meeting. Make it a nice ending to a productive client meeting, whether a first meeting or a typical client review meeting.
5) Personalize it with a short, warm inscription. Every time your clients open the PWR at home, you want them to be fondly reminded of you. A one-sentence note on the inside flap does the trick. And we even provide some good examples below.
6) Send as a thank-you gift for a nice referral. Send along a copy of the Professional Wine Reference to one of your top clients next time you want to thank them for a referral. You don't need to send gifts for every single referral, but this is a thoughtful way to show your thanks.
7) Accompany a nice bottle of wine. Of course, pairing the reference with a bottle of wine makes for a very nice gift and presentation, too. For a serious wine fan, they'll dive right into the Professional Wine Reference to see what is says about that particular varietal, growing region, wine style, etc. Totally engaging.
8) Send to professional network and strategic allies. I know lots of CPAs and Estate Planning attorneys who enjoy wine. Like you, esteemed knowledge professionals, they'll immediately recognize the quality, utility and entertainment value of the Professional Wine Reference. And by the way, some advisors have had good success creating a wine tasting for potential and current strategic allies, so there you go…
9) Drip it on a special prospect. A number of advisors I've known over the years seem to always have one or two special, long-range prospects they're working on. Keeping in contact in a professional way may involve any variety of tactics. Many HNW prospects enjoy wine, too. So sending along a copy of the Professional Wine Reference is a nice move.
Now Is the Time to Beef Up Your Gift-Giving
With This Classy, Valuable Volume
Advisors need good, affordable, and classy gifts they can share with their clients. We know that from our survey of more than 500 advisors.
Overall, less than 23% of advisors we polled feel that they've got their client gift-giving approach successfully in hand. The rest said their approach was only okay or in clear need of help with good ideas.
We also know that more than one-third of all advisors find giving wine and or wine accoutrements makes a splendid gift.
So when we developed our Secrets of Successful Client Events program, I was pleased to discover the Professional Wine Reference.
I knew when I saw it that it would be something advisors would want to include as part of their gift-giving program…
Introducing the Advisor Gift Pack:
It Pays Goodwill Dividends for Years

Professional Wine Reference (20 copies) $399 $337
The Professional Wine Reference is simply the most outstanding and accessible wine book I've ever seen. This is why we've gone to some lengths to make this specialty publication available to you so you can make it available to your top clients and prospects.
Your Advisor Gift Pack of Professional Wine Reference includes 20 copies of this classic wine volume. Plus two great, FREE bonuses outlined in the next section below.
The Professional Wine Reference includes:
Complete glossary of wine grapes, terms, places, and technical information
A unique CROSS-INDEXING system that allows you to explore any subject in depth
"Understanding wine styles"
Easy-to-use pronunciation guide
Over 300 pages organized alphabetically
Here's a closer look at the contents:
Fifth Edition, 30th Anniversary: While the 30th anniversary edition has been improved in terms of the way it has been compiled and presented, its purpose remains the same: to provide a quick, clear and accessible reference tool for wine enthusiasts everywhere. Its pocket-sized format is designed to take with you to cellars, vineyards, restaurants and wine shops," according to editors…
THE Reference: There are more than 2,000 entries in this slim volume, which, by the way, really can be tucked
into your back pocket. An encyclopedic dictionary is how the editors of the
Professional Wine Reference
refer to their work. That's a good name because the entries do tell you more than just their simple definitions. It's truly informative and entertaining…
Varietal Wines: It's great to have a representative list of all the major (and some minor) varietal in one spot from the white Aligote grape in the Burgundy district in France to the spicy red Zinfandel of California, known as "America's truly unique red grape..."
Wine Styles: "Knowing what grape varieties a wine is made from or where in the world that wine originates is useful information, say the editors. But to a wine drinker, the most important information about a wine is what it tastes like." This section introduces you to the idea of "taste profile," the unique aspects of the wine, such as its weight, texture, flavor intensity, and personality. When you know this, you can explain just what a wine tastes like to you. And when you can do that, you're on your way to understanding how best to pair wines with your favorite foods…
The Most Mispronounced Words: No doubt, this aspect of wine--pronouncing difficult foreign grape namesmdash;has caused many a person to steer clear of the whole topic. But throughout the 351 pages of the Professional Wine Reference, there is constant pronunciation guidance. Plus, in the back, there's a special section on the most mispronounced wine words, including Brut, Gigondas, Gewurtztraminer, Meritage, Montrachet, Petit Verdot, Poulilly-Fuisse, Riesling, Viognier, and Sauvignon.
Once you get a handle on a few things French, it goes a long way in the pronunciation arena…
Meet the Authors of the Professional Wine Reference
Some of the most knowledgeable and experienced professionals in the world of wine have contributed to this book. Check out their bona fides.
Frank E. Johnson has been writing about wine for over 30 years. He was a cofounder of a professional organization of wine writers, the Wine Media Guild of New York, and was U.S. representative for La Revue du Vin de France in Paris. In 1997, he published The World of Wine, a general-interest wine book written primarily for consumers. Currently, he directs Frank Johnson Selections LLC, an international wine brokerage business.
Editor
Jean K. Reilly is a freelance journalist and wine educator based in New York City. She is a contributor to Wine Enthusiast, Fortune and Beverage Media magazines. She also teaches wine classes for the Wine and Spirits Education Trust and for the Institute for Culinary Education as well as corporate and private clients. She holds the Diploma from the Wine and Spirits Education Trust in London and is a Certified Wine Educator with the Society of Wine Educators in California.
Technical Editor
Lisa Granik, MW, lives in New York, where she has been a fine wine specialist and educator for a number of wine distributors. Lisa teaches for the International Wine Center and became a Master of Wine (MW) in 2006. An occasional contributor to World of Fine Wine and other publications, she also frequently leads corporate wine seminars. Before entering the wine trade, she practiced and taught law in the US and abroad. A Fulbright Scholar, she holds a doctorate in law from Yale Law School.
Contributing Editors
Christy A. Canterbury is the National Wine Director of Smith and Wollensky Restaurant Group and a freelance journalist. She is a candidate for the Master of Wine title and holds the Diploma from the Wine and Spirits Education Trust. Previously, Christy worked as the Director of Business Development at Italian Wine Merchants and as the Eastern US Public Relations Director for New Zealand Winegrowers.
Charles Curtis, MW, is Director of Wine and Spirits Education at Moët Hennessy USA and one of just 24 Masters of Wine in the United States. He is a featured speaker at wine and food festivals throughout the country and has worked over the past decade in a variety of capacities in the wine trade. Previously, Charles worked as a chef after training at Le Cordon Bleu in Paris.
Dr. Patrick Farrell, MW, is a physician, wine educator, master of wine, author and President of Inventive Technologies, Inc.
Amy Mumma is the founder of the Central Washington University World Wine Program which consists of the Wine Trade Professional Certificate, Wine Trade and Tourism Minor, and wine industry short courses. She was named the Professional Wine Woman 2005 at the International Wine Women Awards in Paris.
Igor Ryjenkov, MW, was born in Russia where he trained as a journalist. A Master of Wine since 2003, he is based in Toronto, Canada and currently works in retail for the premium division of the Liquor Control Board of Ontario where he participates in buying decisions and VQA Ontario tasting panels. He teaches for the Wine and Spirits Education Trust and for the Institute of Masters of Wine. He also consults to the trade and lectures locally and internationally.
Jennifer Simonetti is the Champagnes and Wines Educator for Remy Cointreau USA in New York. Previously, she worked in wine brand management for Kobrand Corporation after getting her start in the wine industry with the Burgundy Wine Company. In addition, Jennifer has hosted seminars for large corporations including Morgan Stanley and Lazard Financial. She holds several wine certifications including the Diploma from the Wine and Spirits Education Trust and is currently a candidate for the title of Master of Wine.
Now you can see why wine shop personnel armed with the Professional Wine Reference speak with such authority and insights about wine. Soon, your favorite clients will, too.
Overall, the Advisor Gift Pack for the Professional Wine Reference is the ideal, easy to use, high value gift you can share happily with clients and prospects. But we've also included two high-value, free bonuses for you, too.
Everything You Need to Relax With Clients and Prospects:
The Great Client Wine Event Guide
FREE BONUS #1

Printed Report

The Great Client Wine Event Guide (9-page printed report) ($29 value)
When you order your Advisor Gift Pack of 20 copies of the Professional Wine Reference, you also receive the Great Client Wine Event Guide, your own printed report by Nicole Coulter.
A small, intimate dinner and wine tasting can be just the right approach to meeting with valued clients and prospects. Here Nicole has produced a step-by-step guide for just such an event with your best clients and their friends and explains how a Great Client Wine Event can both reassure clients and appeal to prospects in a pleasant and personable manner. This 9-page printed report includes:
Preliminary Planning: budget, scheduling, and materials needed, and reserving the right place for the event. Plus, what to consider on getting a wine expert.
Extending the Invite: What to consider when inviting clients and prospects, plus thoughts about how to include "Centers of Influence."
Hosting the Event: An outline of the night's events from the wine tasting and meal to the market discussion.
Delivering Your Value Proposition: How to position yourself and your business just right.
The Follow-Up Procedure: You've got to have smart, effective follow-up no matter how small and intimate the event. Here's what to do.
Checklist for Client Wine Event: Everything you need to do from three weeks prior to the event to one week after it.
Retirement Readiness Survey: The ideal, low-pressure, easy to complete, end-of-event survey reveals good follow-up items for both prospects and clients.
Pair this report with the Professional Wine Reference and you've got the perfect send-off gift for your clients and prospects who attend your wine tasting and dinner.
The Wine-Referral Connection: Make Referral
Anxiety Disappear, Too
FREE BONUS #2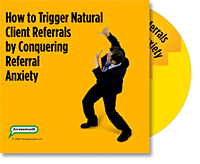 How to Trigger Natural Client Referrals by Conquering Referral Anxiety, 56-minute audio CD ($49 value, included)
Nearly every advisor I've ever met confesses that they don't get the kind of referrals they should. There are lots of reasons for that and you probably know all of them.
If there's one thing that's clear it's that a good referral strategy takes regular care and attention on a variety of fronts.
One key issue is how to reward someone for a successful referral. Some advisors do nothing other than a note or comment of thanks. Others do more elaborate things. It just depends on who and how it all came about.
But here's one new approach you can take for some of your clients.
Next time you get a referral from a top client who you know likes wine, just drop them a short note and send along a copy of the Professional Wine Reference. Tell them something like "great clients are like great wines they get better with time." Or something like that. (See sample inscriptions below.)
Your wine fan clients will certainly remember that.
Got issues with referrals? If you need more work on referrals, it's my experience getting over Referral Anxiety is a big first step. So to boost your referral activity so you've got more chances to thank clients we want you to have our special 56-minute audio CD, How to Trigger Natural Client Referrals by Conquering Referral Anxiety ($49 value).
In this discussion with Automatic Referrals author Miriam Lawrence, you'll learn how to take easy, low-key steps toward naturally extending your advisor-client relationship to the realm of the client's natural network… Which positions you, ultimately, to meeting clients' close friends and even inviting them to your next client event.
An Insider's Wine Book for Special Clients
After a year like last year, we're clearly still in the territory where a gift from one's advisor should not appear to be extravagant. Smart, useful, understated in a way, is probably the best approach.
The Professional Wine Reference fits that bill to a T. Think about it:
It demonstrates you value high quality and associate that with your clients.
Wine lovers and enthusiasts will have lots of fun with it and be reminded of you.
It's the perfect size to either handout on the spur of the moment, use for a special event, drop in the mail, or include with a bottle of wine…
It's perfect for the holidays or a birthday.
And it can take a simple, warm inscription to really leave a lasting impression.
It's a great send-home item for a small, intimate wine tasting dinner with your top clients and prospects. Plus, you receive the perfect how-to-do a wine event guide, too.
It's amazingly versatile in the ways you can use it: clients, prospects, strategic allies, etc. Having a cache of these wonderful wine guides fits two key interests of advisors and clients: good book and wine-related.
Sample Inscriptions: Five Suggestions for Warmly
Inscribing Your PWR
The best way to leave your mark on a gift such as the Professional Wine Reference is to warmly inscribe the inside page of the guide.
This is the easiest, least expensive route to adding personalization. Of course, you can write anything you'd like.
But just to get your creative juices flowing, we've crafted a few sample inscriptions that you're welcome to follow exactly, modify for yourself, or use as your own springboard.
Inscription Sample #1

For Jane and John,
A good wine is like a good friend. Both grow better over the years. Enjoy!

– The Joe Advisor Financial Group

Inscription Sample #2

For Jane and John,
Hope you enjoy this amazing guide. It's the next best thing to actually visiting a vineyard. Have fun!

Warmly,

Joe Advisor

Inscription Sample #3

For Sam and Delilah,
Nothing's as relaxing as a glass of the right wine at the end of a long day! Enjoy finding that wines' story here.

Michael Foote

Inscription Sample #4

Dear Bob and Mary,
I hope you gain as much pleasure from this guide as I do in working with you. Cheers!

With best regards,

Andrea Angstrom

Inscription Sample #5

Dear Bill and Mary,
A good wine is like a well-managed portfolio! Both grow better over the years. Happy sipping!

Warmly,

Kim Johnson
Hope these inscriptions help and inspire you. Personally, I think a warm book inscription of any type surpasses in quality and effect any sort of corporate branding or logo.
Our Personal Promise: Advisor Gift-Pack Guarantee
As someone who enjoys wine and who has my own financial advisor, I'm totally certain that you and your clients will enjoy and appreciate their own copy of the Professional Wine Reference.
Your clients will be struck by its uniqueness, its high quality, its amazing depth and breadth of knowledge, and your thoughtfulness in picking it for them.
When you get your Advisor Gift Pack of 20 copies of Professional Wine Reference, you'll quickly see this for yourself. I'm certain you'll be totally pleased to use this amazing resource as a small token of your appreciation. Clients and prospects alike will enjoy it, use it, and remember you fondly each time they do.
You must be totally satisfied with the quality of the Professional Wine Reference and agree that it is a fine and classy book gift to share with your clients. If in the extremely unlikely event that you are not delighted to give this as a gift to clients, prospects and strategic allies, we'll rush you a refund when you return the materials. Guaranteed. No problem. And you can keep both of your bonus gifts the Great Client Wine Event Guide and the How to Trigger Natural Client Referrals by Conquering Referral Anxiety CD.
Save $140 When You Order Your Advisor Gift Pack Today
As I think about it, great clients really are like a great wine… They get better with age… They need proper care and tending… They keep better when cared for properly… As time passes, their character changes, improves, and there's a greater need for them to be protected. The analogies are many.
People like to be thanked and people like to be remembered. And making the Professional Wine Reference part of your client gift repertoire is certain to help you improve and reinforce your stature with your clients.
That's why we've created an Advisor Gift Pack around the Professional Wine Reference to help you improve your gift-giving program.
Only 22% of the advisors we surveyed said they're happy with their gift-giving program. This is one gift that will bring a smile to everyone's faces.
Remember, you can't pick up a copy of the Professional Wine Reference at your local bookstore or even order it through Wine Spectator or some other publication. It's normally made available only through wine and liquor wholesalers.
If you bought all the elements of the Advisor Gift Pack separately, it would cost $477.
The 20 copies of the Professional Wine Reference retail alone at $19.95 a piece or $399. But while supplies last you can save 30% when you buy the Advisor Gift Pack of 20 copies of the Professional Wine Reference for just $337.
That's $16.95 a copy, a 30% savings off the $19.95 retail price and a $62 savings to you on the normal $399 price.
Plus, you get a copy of The Great Client Wine Event Guide, a $29 value, and the How to Trigger Natural Client Referrals by Conquering Referral Anxiety, 56-minute audio CD, $49 value, both for free.
That's a $140 saving when you get the Advisor Gift Pack. But this is a limited offer, so complete your order below. Great savings for a client gift-giving program that will keep paying good will dividends for years.
That's a great value for your client-gifting program.
Plus, you also get How to Trigger Natural Client Referrals by Conquering Referral Anxiety and the Great Client Event Wine Guide as two, free bonuses.
All told, your Advisor Gift Pack is a modest investment to boost your own high-value gift program. Wine lovers are everywhere and there are a preponderance of them in the ranks of the high net worth. So your gift idea here is perfectly aligned with an ideal client or prospect.
I urge you act on this great client gift opportunity right now.
Limited-Time, Risk-Free Offer Act Today
When you make the smart decision to add this classic wine guide to your client gift-giving program, you save $62 off the full price of $399 by ordering 20 copies of the Professional Wine Reference.
Just follow any of the links on the page and complete your order for the Advisor Gift Pack of 20 copies of the Professional Wine Reference. It's simple to do. And when you get your pack, it's simple to warmly inscribe each.
Remember, you get 20 copies of the Professional Wine Reference, your complete guide to hosting a fun wine tasting for clients and prospects, and a special CD to help you improve your referral business, too. You get a total savings of $140!
Its a great package for your gift-giving. And its a classic gift your favorite clients will remember and appreciate.
Act now so you can save money, and maybe even plan a little wine tasting, too. Learn more now.
Best,



Sean M. Bailey
Editor in Chief
Horsesmouth
21 West 38th Street, 14th Floor
New York, NY 10018
888-336-6884 ext. 1
P.S. We've pulled together this offer because it seems so perfect for advisors. You've told us in surveys that you often like to give clients books as a gift. And you've said that you also like to give wine and wine accoutrements. So the Professional Wine Reference seems like an ideal match.
P.P.S. The Pros say the Professional Wine Reference is your key to sounding smart about wine. Here's what Jennifer D. Frank, Executive Director of the BonVivant Wine Guide, says:
"I own the 2002 version of this pocket-sized book… The binding is nearly torn off I have found so much use for it. The Professional Wine Reference is the must have miniature reference book. You can take it with you anywhere and look up Alsace, information on the Jura or the meaning of Recioto all on a moment's notice. It's your pint-sized ticket to sounding smart about wine!"
P.P.P.S. This is the first time we've set up an Advisor Gift Pack to help you deliver a classy, high-value, yet affordable gift for your clients. I urge you to go ahead and place your order today and save $62 while you can.
And remember, there's no risk to you. We completely guarantee your purchase. So go ahead and order it now so you can add your personal inscriptions and start getting your gift program rolling.