Imagine getting high-quality referrals 100% of the time. Listen to the report that will show you how...
Audio Edition—Unabridged
| | |
| --- | --- |
| Listen to excerpt here! | |
Automatic Referrals: How to Instill Discipline in Your Referral Strategy and Guide Your Clients to Deliver Perfect Prospects Every Time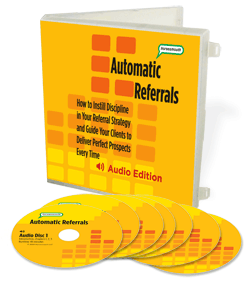 Get more qualified prospects—order now!
7-disk CD set guides you step by step in transforming your referral strategy

13 Action Research Summaries give you detailed review of each recorded chapter for fast reference to key points

11 reusable worksheets and checklists to put your plan into action

4 detailed case studies showing how advisors succeed with referrals

Plus, real-life referral insights gleaned from more than 1,600 advisors
Why do 87% of clients say they are willing to recommend advisors, but only 11% ever get asked for referrals by their own financial advisor?
We think it's because 81% of advisors say they either have a referral marketing strategy that is unfocused or inconsistent—or worse, have no strategy at all.
You can get a constant flow of quality referrals.
When you implement the powerful principles featured in Automatic Referrals, you'll be poised to join the elite handful of advisors who have discovered how to use referral marketing to lower their client acquisition costs, increase their efficiency, and build a robust book full of high-quality clients.
After spending just a few hours with Automatic Referrals, you'll be on your way to mastering all the techniques you need to start asking the right people for referrals to the right prospects—at the right time, and in the right way, with consistency and confidence.
Our best-selling action research report on referrals now available for your listening!
Automatic Referrals spells out on CD:
How to motivate your best clients to make referrals to prospects exactly like them.

How to improve profitability and accelerate the growth rate of your practice.

Why you'll experience higher closing ratios once you've developed a coherent referral strategy.

How to avoid the "Experiment Trap" that causes most referral strategies to fail.

How "warm calls" will become a staple of your prospecting activities.

How to enhance the quality of your prospect pool.

Why HNW clients WANT to be referred to you.

How to use referrals to strengthen your relationships with your best clients.

How to join the elite corps of advisors who are VERY SATISFIED with their referral strategy.

The one thing you MUST do in order to super-charge your referral flow.
The unabridged audio companion to the best-selling Automatic Referrals report
| | |
| --- | --- |
| Listen to excerpt here! | |
We know that your time is valuable. That's why we refuse to waste it with platitudes or padding. Automatic Referrals contains only the purest boiled-down essence of wisdom, insight and direction you need to turn your referral activities into a referral machine.
You'll learn:
Why "strategy avoidance" kills your referral flow.

How to get predictable, consistent results from your referral strategy.

8 questions you must answer in order to have a workable referral strategy.

What it means to "get referrals by design."

How to gain control over the number and quality of referrals you get.

How to assess the risks of the "Referral Triangle."

How to stop clients from creating unrealistic expectations in potential referrals.

The hidden danger in accepting unsolicited referrals.

How to identify—very specifically—the types of clients you want.

How to communicate with referral sources so they follow your directions precisely.

How to target specific prospects and get actual introductions.

How to easily create a tailor-made referral process for your business.
Looking for real-world tools and tactics?
The Automatic Referrals disk set is designed to take you seamlessly from theory to practice. Every chapter concludes with an Action Summary that crystallizes the important points and makes it easy to review ideas and action steps.
Also included is a CD-Rom of 11 worksheets, templates, and checklists that you won't find anywhere else:
What I Do for My Clients—clearly define and express your value and prepare to ask for referrals with confidence.

Establish Your Referral Targets—set realistic but ambitious goals for growing your referral business.

Create an Action Plan—map out a clear, step-by-step route to achieving your referral goals.

Identifying a Target Market—get a bead on your niche and how you're going to reach the prospects you're after.

A-Client Analysis—learn to identify the qualities shared by the clients you most want to serve.

Ideal Client Profile—define your ideal client in vivid detail to help drive higher-quality referrals.

Mapping Client Networks—gain a clear understanding of the potential clients your referral sources know.

Prospective Referrals form—create a profile for every important referral source.

Referral Follow-up Checklist—ensure you never again fail to act on a referral or properly acknowledge your source.

Call Planning sheet—prepare fully to be more effective on every follow-up call.

Referral Tracking sheet—keep tabs on your results; you can only manage what you measure.
Learn from real advisors who have mastered the referral game
Automatic Referrals features in-depth case studies about real referral strategies that have created dramatic results:
How an FA Doubled Revenues—Without a Single Cold Call
This advisor gave up cold calling and seminars and still increased his revenues by 100% using a four-step process he calls "predatory prospecting."

How to Use ACT to Maximize Referrals
This financial planner built a contact management system that helps her follow up on every prospect until they buy or die.

How to Boost Referrals Using a Client Advisory Board
This advisor convened a client advisory group, started landing higher-quality referrals, and grew his book by more than one-third.

Referrals—A Fresh Tack That Yielded $35M
This 50-something advisor doubled his production in 18 months by cultivating relationships with two key professionals in his small town.
The most important seven hours you'll spend on your business this year—guaranteed!
Just imagine that EVERY prospect you meet by referral is not only financially qualified, but is PRECISELY the type of client you dream about helping.
These are clients who are tailor-made for you.
And you are precisely the kind of advisor they always wanted.
When you use the guidelines and tools in Automatic Referrals to build a referral system tailored to you, you will see a dramatic increase in the number of qualified referrals you receive and close.
If you are not satisfied with our recommendations and resources, simply return Automatic Referrals for a 100% refund.
So why wait? Take action now, and start building a referral strategy that will transform your business. Get your disk set of Automatic Referrals today.
Disk Set ContentsTable of Contents
Chapter 1: The Power of Referral Marketing
How referrals lower customer-acquisition costs Why HNW prospects like being referred How many clients really want to give you referrals The core challenge of getting referrals Why the ad hoc referral approach typically fails The case for a strategic referral process Eight questions every referral strategy must answer Understanding the referral triangle Why a referral process mitigates risk
Chapter 2: Developing a Referral Mindset

How your frame of mind influences referral success

Referral fear and how to overcome it

Why advisors try to justify referral aversion

Understanding the dormant referral potential in your existing book

Debunking the "damage threshold"

Three remedies for beating referral aversion

How referral requests really affect advisor-client relationships

Why advisor-centered referral approaches are deadly to your business

How to measure value in the referral triangle

Why client-centered referral requests will power automatic referrals

The four core beliefs of the referral mindset

Chapter 3: How to Set Goals That Promote Automatic Referrals
Why having goals is key to generating automatic referrals Understanding the two types of referral goals How SMART goals work Eight tips for actionable referral goals How to translate referral goals into concrete action steps How to determine how many referrals you need How to map out a referral action plan
Chapter 4: In Search of the Perfect Referral
Identifying ideal clients and markets The single greatest secret to getting quality referrals on an ongoing basis How to train clients to spot qualified referral candidates Five ways to test your target market The role of active networks in target- ing referral success Key benefits of articulating your Ideal Client Profile The five key qualities of an A client How to clone your best clients
Chapter 5: Driving the Referral Process—Clients
Take Direction From You
Why you, not your clients, are responsible for the quality of the referrals you receive How to regulate your referral pipeline The truth behind the "I don't know anyone" response How the KISS principle can help you get qualified referrals Why to shoot for face-to-face introductions How to put introductions in writing—if necessary
Chapter 6: Mapping Client Networks—The Road to
Automatic Referrals
Understanding the many sources of referral flows How to look beyond your clients for referrals How to uncover the important social and business connections of family, friends, and colleagues How to use network maps to identify new sources of referrals Why documenting client comments helps drive more referrals When it's worthwhile to take on the "less than perfect client" How to build a referral profile Why C clients may be worth keeping
Chapter 7: Knowing When and How to Ask Clients for Referrals
How long to wait before asking for referrals Key client events that set up referral requests How to turn compliments into referrals How to be certain you convey sincerity when asking for referrals Understanding what motivates your referral sources The four best times to ask for a referral How to find the proper "angle" for meeting with a referral prospect The soft techniques that support your referral efforts How to ward off referral objections
Chapter 8: Getting Referrals From Friends, Family, and Colleagues
Why your fear of asking may be overblown In-house referrals—the best untapped referral source The four-step process for turning close personal and business contacts into referral sources How to dispel outdated images of yourself Overcoming three obstacles to in-house referrals 12-step formula for cultivating in-house referrals
Chapter 9: Automatic Referral Allies—Landing Strategic Partners
Why strategic partnerships often fail Three steps to referral success with strategic partners The keys to getting referrals from allied professionals Five principles of selecting and securing referral partners How to connect with CPAs 17 questions CPAs will ask you What CPAs fear most about forming strategic partnerships with you Understanding referral relationship opportunities with estate attorneys Four ways to meet estate attorneys The problems estate attorneys wish you'd help them solve Architects, business brokers, and other "outside the box" strategic alliance partners Six critical steps to keep referral partnerships running smoothly
Chapter 10: Network Your Way to Automatic Referrals
Understanding the benefits of formal networking groups How to get the "Man, you know everyone!" reputation Three networking questions pioneered by Ben Franklin Four basic principles of effective networking How business cards and elevator speeches can kill your networking The one trait that all superstar networkers share 12 steps to networking success How to break the ice at social and business events Seven secrets of natural networkers
Chapter 11: Managing Automatic Referrals—Effective Follow-Up
The "cover charge" every successful advisor pays for referrals Proper care and feeding of referred prospects The five questions you should ask yourself before every call to a referral What to do when you encounter resistance from prospects Why offering "back door" escapes can build your credibility How the "up-front contract" works with prospects Two scripts for follow-up success How to respond to "I already have an advisor" and "I really don't have time to see you" The surefire process for making referral sources feel appreciated
Chapter 12: Tracking Referral Results—Fine-Tuning
the Automatic Referral Flow
Why referral goals must be measurable Understanding what to track The hard-number approach to measuring results The activity approach to tracking referrals success 11 referral metrics worth tracking How to develop your own tracking system
Chapter 13: The Referral Circle: The Engine of Automatic Referrals
The one question you must answer correctly to succeed in getting referrals How to create and leverage "raving fans" Four "must-have" client service priorities The two accounts you must manage for every client Eight little extras that make clients happy and cost almost nothing Why you should include CPAs and estate attorneys in your service strategy How to reward referral sources The polestar by which to guide your career
Appendix A
Case Studies
How an FA Doubled Revenue—Without a Single Cold Call How to Use ACT to Maximize Referrals How to Boost Referrals Using a Client Advisory Board Referrals—A Fresh Tack That Yielded $35M
Action Resources Tools and Templates
What I Do for My Clients worksheet Establish Your Referral Targets worksheet Create an Action Plan worksheet Identifying a Target Market worksheet A-Client Analysis worksheet Ideal Client Profile worksheet Mapping Client Networks worksheet Prospective Referrals Form Referral Follow-Up Checklist Call Planning Sheet Referral Tracking Sheet
FREE BONUS




Getting Referrals in Difficult Times: 6 Take-Charge Approaches

How do you ask for referrals smack dab in the middle of the worst financial crisis in a lifetime?

It's a tough question—and it's one faced by all advisors who've struggled with growing their business in the aftermath of the Great Recession.

That's why we've called on some of the best referral experts in the business to share their insights on how the referral conversation has changed and find out what's working right now.

Disc 1: Getting Referrals in Difficult Times: 6 Take-Charge Approaches
Bob David: Bob is a veteran advisor and former branch manager and he's the former director of advisor programs at Horsesmouth where he delivered the highly popular "Automatic Referrals Jumpstart Program." Bob is now an industry speaker and advisor coach.

Dan Richards: Dan is President of Toronto-based Strategic Imperatives, a company that helps financial advisors implement programs to build deeper relationships with existing clients and to attract new ones. He holds an MBA from the Harvard Business School and is an award-winning faculty member in the MBA program of the University of Toronto.

Disc 2: Getting Referrals in Difficult Times: 6 Take-Charge Approaches
Bill Cates: Bill Cates. Bill is president of Referral Coach International, and helps financial professionals build their practices by fully mastering the referral process and tapping into the lifetime value of their clients.

Dan Finley: Dan is the president of Advisor Solutions, Inc. and specializes in coaching financial advisors. Dan started out as a registered investment advisor in 1993 and has been in the financial services industry ever since.

Disc 3: Getting Referrals in Difficult Times: 6 Take-Charge Approaches
Erin Tamberella: Erin is founder of Executive Transformations, dedicated to coaching financial advisors to maximize their potential with more confidence and less stress. She backs up her coaching expertise with 17 years of experience as a financial advisor and three years as a producing branch manager for Morgan Stanley.

Matt Anderson: Matt is president of the Referral Authority, where he coaches financial-service professionals how to build referral-based businesses and turn networking contacts into clients.
Money-Back Guarantee and Shipping Info
Our No-Risk, 100% Money-Back Offer: If you are not satisfied with Automatic Referrals, simply return it within 30 days for your 100% refund and any state taxes you may have paid on the purchase.
Just mail your disk set back to us with a note (address below) and we'll gladly refund your money. Here's the address you must use for returns:
Horsesmouth, LLC
21 West 38th Street
New York, NY 10018
Shipping Info: Your report will be shipped to you within two business days of your order at Horsesmouth. Your report will be sent U.S. Postal Media Mail and should arrive within a week to 10 days.
Shipping and handling is not included in price.
100% Satisfaction
Guaranteed!
Questions? Call (888) 338-6884

Take your first step to building a referral strategy that really works—order today!
Automatic Referrals $97

Forces Activity, Real World Scenario
"In the past, I usually asked for referrals from my most loyal clients or when an opportunity came up in conversation. But I had never mapped client networks or had targeted conversations.
"Now I'm using Network Mapping. That concept is key to the program.
Things I found valuable in the program included the conference calls to discuss the concepts, the action plan worksheets to force activity and the advisor interviews in each presentation--they helped put it into real world scenarios. It's a good program and I'm much more likely to ask for referrals. Thanks."
—Scott Gettel, Portland, Oregon
Not Begging for Referrals
"I want to build my business
"My referral strategy used to be nearly nonexistent due to lack of a consistent process. Now I'm much more open to asking for referrals and I understand how to target my referrals.
"A good referral program is client and prospect oriented, not me-oriented. The value is in recognizing that you're not just begging for new business when you ask for a referral. Now I see that the first step in targeting a referral program is identifying the A clients and creating an ideal client profile. The program overall was excellent and I'm much more likely to ask for referrals now."
—Gary Justice, Kirkland, WA
Developing a Referral Mindset
"When I started, I didn't have a referral strategy because I'm uncomfortable asking. Now I've completed the networking mapping of the friends and family of two of my clients. It was simple and very effective and the clients also felt good about our interest in helping them. "It was easy to follow the program and the home work forced us to review the material and activate the information. Developing the referral mindset is an excellent foundation and I'm feeling good about the growth."
—Mebs Dhalla, CFP, CLU, Toronto, CA.
Voila, a Referral
"Before, my referrals were hit and miss. I didn't always make it clear what and who I wanted to work with. My guideline for prospective clients was not clear. "Now, I'm bolder and I have a clear definition of who I am interested in working with and I can give clients a clear understanding of my working business model... Now I'm making a list of clients I want to replicate and I'm asking for referrals from friends, colleagues and family members. I just got back from an appointment and voila, a referral!
—Hap Cole, Huntington Beach, CA
They Both Opened Accounts
"Before participating in the program, I was reluctant to ask even though some of my best clients are referrals. I have a plan now and as a result of talking to one of my most ardent supporters, he referred two brothers to me. We met last meeting Saturday morning. They both opened accounts.
"I have done the homework and am fairly certain that I now know my "best" client profiles. I have started a birthday campaign and have invited three separate priority clients to lunch on their birthdays and to bring one or two friends whom I don't know. They all accepted and were very pleased with the invitation.
"I enjoyed the program's interviews, the well-organized modules and the action steps. "
—Pamela Burke, Pepper Pike, OH

Take your first step to building a referral strategy that really works—order today!
Automatic Referrals $97

Take your first step to building a referral strategy that really works—order today!
Automatic Referrals $97

Take your first step to building a referral strategy that really works—order today!
Automatic Referrals $97

Take your first step to building a referral strategy that really works—order today!
Automatic Referrals $97

Take your first step to building a referral strategy that really works—order today!
Automatic Referrals $97